Former FISU athlete becomes Sports Director of University of Chile
Former Chilean table tennis player Blanca Durán, who competed at two editions of the FISU World University Games, has been appointed Sports Director of the University of Chile.
Durán is a flagbearer for gender equality in sport in Chile, being one of the few female Sports Directors in the country. She takes on this role at an important institution with a rich history, that was founded back in 1842.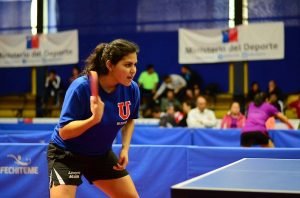 Referring to the present and upcoming challenges of sport and physical activity, Blanca Durán points out that it is necessary to "move towards in-person activities, both physical activity and competition, within the possibilities that the pandemic allows us."
A lifelong athlete, Durán was the youngest adult national champion of table tennis, at just 15 years old. In addition to many pan-American achievements, she also represented her country at the 2015 and 2017 editions of the FISU World University Games in Gwangju and Taipei respectively.
Sports Director of the University of Chile, Blanca DuránThe first woman to occupy the position of Sports Director of the University of Chile, Durán says "Collaborative work must be the hallmark of the new Directorate."
"I am excited that it (appointment) is in a year of transition because it allows us to rethink many of the things we do," she adds. "Challenges motivate me, and uncertainty doesn't scare me much."
"My ideal vision is for sport to be considered a tool for human, professional and student development. We must move from a more competitive vision towards a human development perspective," says Durán
Reference: Former FISU athlete becomes Sports Director of University of Chile