[:es]El torneo está llegando a su final, y los cruces por los cuartos de final, disputados en el día de ayer, nos permitió conocer a los 4 mejores jugadores del primer FISU AMERICA eSports – FIFA20.
Luego de empatar en 2 en un partido muy parejo, Ulisses Selles(BRA) y Facundo Carnago(ARG), el brasileño pudo conseguir el resultado que le permitía meterse en las semifinales del campeonato.
Después de estos encuentros, volvió a ser el turno de un brasileño, en este caso Luis Guilherme, quien venció por 4 a 0 y 4 a 1 a Diego Guerra de Uruguay. y entró al Top4 del torneo.
El tercer clasificado a las semifinales, sería Nicolás Brizuela de Argentina, quien eliminaría Bastián Ibaceta de Chile con un claro 6 a 3 y luego 3 a 2, avanzando de ronda.
Para cerrar los cuartos de final, el mexicano Moisés Uziel, logró su pase venciendo por 2 a 0 y 4 a 0 frente a Sebastian Benavides de Costa Rica, y dando por terminados los cuartos de final del campeonato.
En el día de hoy, 16 de mayo, se enfrentarán los dos jugadores pertenecientes a CBDU, Brasil, y por la otra semifinal jugarán Nicolás y Moisés. De estos enfrentamientos, conoceremos a los dos finalistas del torneo. Todos los partidos se podrán seguir a través del canal oficial de YouTube de FISU AMERICA desde las 22hs (GMT -3)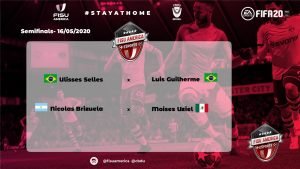 [:en]The tournament is coming to its end, and the quarter-finals played yesterday, let us know the best 4 player of the FISU AMERICA eSports – FIFA20
After they tied on 2 goals, Ulisses Selles(BRA9 and Facundo Carnago(ARG), the Brazilian beat by 4-1 in the second game, getting his ticket to the Top4 of the championship.
After these games, was the turn of another Brazilian, in this case, Luis Guilherme, who beat clearly to Diego Guerra, Uruguay, 4-0 and 4-1, moving to the next roound of the FISU AMERICA eSports – FIFA20.
The penultimate qualified to the semifinals is Nicolás Brizuela from Argentina, who eliminated Bastian Ibaceta by 6-3 and 3-2, going to the next stage.
Closing the quarter-finals the Mexican, Moises Uziel, became one of the best 4 players of the continent, beating Sebastián Benavides, from Costa Rica, by 2-0 and 4-0. 
Today, May 16th, bothe Brazilian player will face each other and in the other Semi-Final, Nicolás and Sebastián will fight for their place in the final of the championship. All the game can be followed through the YouTube channel of FISU AMERICA from 10pm (GMT -3).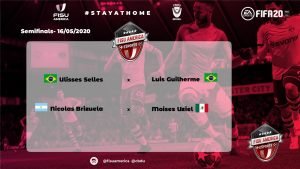 [:]