[:es]Se definieron los clasificados del grupo F en el día de ayer, 11 de mayo, grupo del que participaron Facundo Cornago de Argentina, Ana Luisa Da Silva de Brasil, Johan Caro de Chile, Santiago Petrocelli de Uruguay y Edgar Segura de Costa Rica.
En el primer juego del día se enfrentaron Facundo y Edgar, siendo victoria para el primero por 5 a 1 , y por otro lado Santiago, quien perdió por un abultado 10 a 0 con Johan. En el segunda jornada del día, Ana fue derrotada 1-7 por Santiago y Johan venció a Edgar por 3-0.Los terceros encuentros de ayer fueron entre el argentino quien le ganó al chileno por 7 a 4 mientras que Edgar hizo lo suyo venciendo a Ana por 6-2.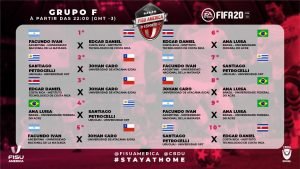 En la ante última jornada, Facundo derrotó en un gran partido a Santiago por 10 a 0 y el chileno le ganó a la brasilera por 4-0. Para finalizar con el grupo F, Facundo le ganó a Ana por 5-2 y Santiago logró derrotar a Edgar por un 4-3 que cerraba la primera fase para los deportistas.
La primera ubicación de la zona, terminó siendo para Facundo Iván Carnago de Argentina y estudiante de la Universidad de la Matanza, quien logró 12 puntos que le permiten avanzar a la siguiente fase del campeonato.
El segundo lugar quedó para Johan Caro, perteneciente a FENAUDE y estudiante de la Universidad de Atacama, quien se coloca entre los 16 mejores y espera por los rivales restantes.
En este grupo fue parte la única jugadora mujer del campeonato, Ana Luisa Da Silva Avila Nova, perteneciente a CBDU, y que esperamos que sea la primera de mucha en ediciones posteriores. Desde FISU AMERICA animamos a todas las mujeres a que sean parte y estaremos a la expectativas a de contar con más jugadoras para todo lo venga en el futuro.
ARGENTINA 2 – 0 COSTA RICA
URUGUAY 0 – 2 CHILE
COSTA RICA 0 – 2 CHILE
BRASIL 0 – 2  URUGUAY
ARGENTINA 2 – 0 CHILE
COSTA RICA 2 – 0 BRASIL
ARGENTINA 2 – 0 URUGUAY
CHILE 2 – 0 BRASIL
ARGENTINA 2 – 0 BRASIL
URUGUAY 2 – 0 COSTA RICA
[:en]The qualified of group F were defined yesterday, May 11th, group where Facundo Carnago from Argentina, Ana Luisa Da Silva, Brazilian, Johan Caro from Chile, Santiago Petrocelli, Uruguayan and Edgar Segura from Costa Rica, were part.
In the first match of the day Facundo and Edgar faced each other, with a victory of the Argentinian by 5-1, followed by a huge 10-0 in favour of Johan against Santiago. The second round of games, Santiago beat Ana by 7-1 and Johan did the same with Edgar by a 3-0 final score. The third pair of matches of the day were against the Argentinian who beat the Chilean by 7-4 and Edgar against Ana by 6-2 in favour of the Costa Rican.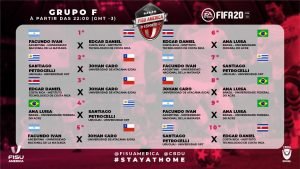 The penultimate matches, Facundo beat by a big 10-0 to the Uruguayan and Johan won the game against Ana by 4-0. Closing the group F, Facundo beat Ana by 5-2 and Santiago did a great game against Edgar winning 4-3, being the last game for 3 of these players.
Facundo Iván Cornago got the first place of the zone with 12 points, the player from Argentina and student of the Universidad de la Matanza, move to the next round in a unbeatable position.
The second place was for Johan Carom, from Chile and belonging to FENAUDE, the student of the Universidad de Atacama, who advance to the round of 16 and wait for the rest of qualified.
In this group we have the only woman player of the championship, Ana Luisa Da Silva Avila Nova, from Brazil, CBDU. We hope that just the first of many to come in the next editions. From FISU AMERICA celebrate and encourage to all the women to participate and we count on you in the future competitions.
ARGENTINA 2 – 0 COSTA RICA
URUGUAY 0 – 2 CHILE
COSTA RICA 0 – 2 CHILE
BRAZIL 0 – 2  URUGUAY
ARGENTINA 2 – 0 CHILE
COSTA RICA 2 – 0 BRAZIL
ARGENTINA 2 – 0 URUGUAY
CHILE 2 – 0 BRAZIL
ARGENTINA 2 – 0 BRAZIL
URUGUAY 2 – 0 COSTA RICA
[:]