[:es]En el día de ayer, se disputó el grupo C, para casi alcanzar la mitad de la fase de grupos.
Se obtuvieron asi el 5° y 6° clasificados para los octavos de final.
Abriendo el grupo se enfrentaron Malik Baptiste de Trinidad y Tobago y Alexis Calderón de El Salvador, siendo triunfo para el salvadoreño por un claro 5 a 0. A continuación Diego Moncada de Colombia, fue derrotado por el venezolano Gustavo Abello por 5 a 2. En su segundo encuentro del día, Gustavo, se midió ante Malik, a quien le ganó por un ajustado 2 a 1, mismo resultado sería en favor de Alexis contra Diego. Para cerrar la jornada, Malik y Diego terminaron su participación en el torneo con un empate en 2. 
El partido de ''exhibición'' entre los dos clasificados y por el primer puesto del grupo, fue entre Alexis, quién se despachó con 6 goles contra 1 frente a Gustavo.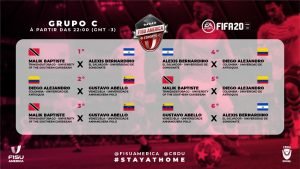 Alexis Calderón, de El Salvador, finalizó el grupo como el primer clasificado con 9 puntos y un gran desempeño, que esperamos pueda mantener en la segunda fase del torneo.
Por su lado, Gustavo Abello, de Venezuela, estudiante de la Universidad Metropolitana de Caracas, se ubicó en la segunda posición del grupo C, metiéndose así entre los 16 mejores del campeonato.
Hoy, 9 de mayo, se disputarán los juegos correspondientes al grupo D, que podrán ser seguidos a través del canal oficial de YouTube de FISU AMERICA.[:en]Yesterday, the group C were played, and we are almost at the half of the group phase, with the 5th and 6th qualified to the round of 16.
Opening the group, Malik Baptiste from Trinidad and Tobago faced Alexis Calderón from El Salvador, with a huge win by 5-0 in favour of the Salvadora. After this game, Diego Moncada, from Colombia, was beat by the Venezuelan player, Gustavo Abello, by 5-2. In their second match of the day, Gustavo, beat Malik with a really tied game, 2-1, same result will be later for Alexis against Diego. Closing the day, Malik and Diego ended their participation with a tied 2-2.
The last game, was an exhibition match for the first place in the group, both already qualified to the next stage, Alexis beat Gustavo by 6-1.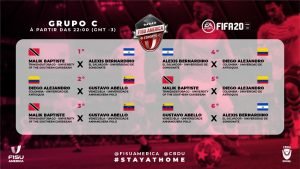 Alexis Calderón, from El Salvador, finished the group in the first place with a perfect score of 9 points and showed a great game, which we hope he can be able to keep in the second phase of the tournament.
On the other hand, Gustavo Abello, from Venezuela, student of the Universidad Metropolitana de Caracas, got the second place of the groupo C, moving to the round of 16 of the championship.
Today, MAy 9th, the games belonging to the Group D will be played, and can be followed through the YouTube Official Channel of FISU AMERICA.[:]