[:es]UNIP(BRA) y University of Ottawa(CAN) en la final del mundo. Los dos equipos provenientes de América y pertenecientes a CBDU y Canadian Interuniversity Sport respectivamente se enfrentarán para ver quien es el mejor del mundo.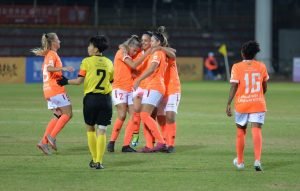 Por un lado se encuentra UNIP, quien ha ganado todos sus juegos por al menos 2 goles y mantuvo su arco invicto, derrotando a la Beijing Normal University por 2-0, la University of Lausanne por 17-0 y University of Sidney por 4-0 en la fase de grupos. Luego en semifinales, venció a la Col. Asian Scholars en un claro 3-0.
Por el lado de la University of Ottawa, comenzó ganando 2-0 a la Donghua University, siguió con la Siberian Fed. University en un partido que venció por 3-0 y finalizó el grupo B con un 4-2 contra la Col. Asian Scholars. En su encuentro de semifinales tuvo que sufrir un poco más, llegando a la instancia de penales luego del 0-0 durante el juego, para definirlo por 5-3 desde los 12 pasos.
Una final que sin dudas será emocionante, donde ambos equipos darán todo por conseguir la Copa Mundial de FISU, y aunque de antemano sabemos que el premio viajará para nuestro continente, Brasil y Canadá harán vibrar a todo Jinjiang por llevarse el primer puesto para su país.[:en]UNIP(BRA) and the University of Ottawa(CAN) are in the final of the World Cup. Both teams from America, who belong to the CBDU and the Canadian Interuniversity Sport respectively, are going to face each other to decide who is the best team of the world.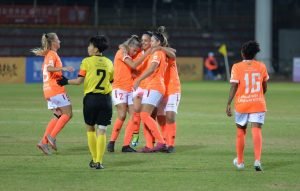 On the side of the UNIP, who won all its games by, at least, two goals, and it didn't receive goals, beating to the Beijing Normal University by 2-0, the University of Lausanne by 17-0 and the University of Sidney by 4-0 in the group phase. Then in the semi-finals, defeated to the Col. Asian Scholars with 3 goals against 0.
On the other hand, the University of Ottawa, began its way to the final, beating to the Dongha University by 2-0, in the second game got the victory 3-0 against the Siberian Fed. University, and ended the group B with a 4-2 win that gave it the ticket to the semi-finals. In the hardest game of the World Cup for the canadian girls, they tied 0-0 with the Beijing Normal University, and reached the final with a 5-3 victory from the penalty definition.
The final is going to be exciting, and we are going to see both teams giving it all to lift the trophy of the FISU World Cup Football, and despite we know that the trophy is coming to our continent, Brazil and Canada are going to offer a great show in Jinjiang to achieve the honor of being the best team in the world.[:]